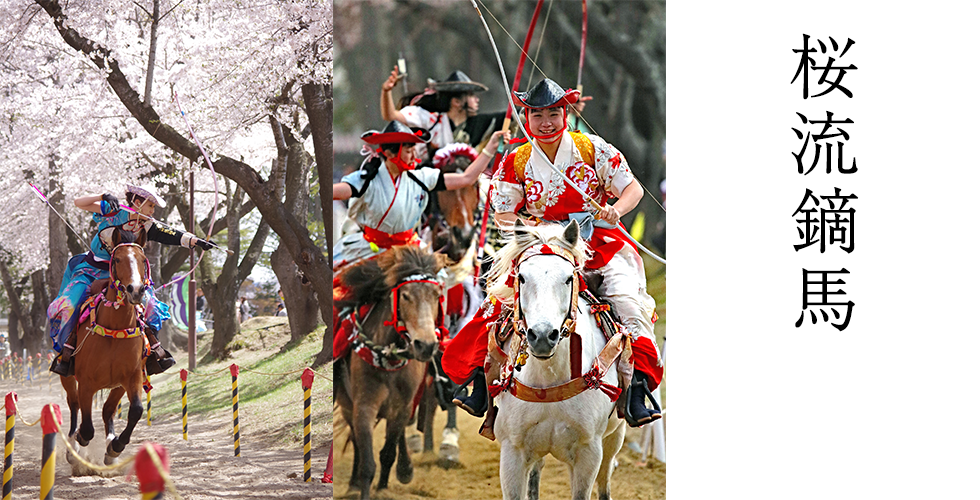 桜流鏑馬 – Sakura Yabusame
COOL JAPAN AWARD 2019
【一般部門】インバウンドカテゴリー
表彰対象 桜流鏑馬
表彰対象者 有限会社十和田乗馬倶楽部
都道府県 青森県

Sakura Yabusame
Category: Inbound
Award Recipient: Towada Joba Club
Area: Aomori
概要
桜流鏑馬は、十和田市の美しい「桜並木」と日本の伝統馬術武芸「流鏑馬」が癒合した世界でここにしかない勇壮華麗な絶景です。
日本陸軍最大の軍馬補充部が置かれた十和田市は馬によって繁栄し、先人の植えた桜並木が残る美しいまちです。
現在も十和田乗馬倶楽部を中心に生きた馬と触れ合えることができ、この馬事文化を礎とし、神事として男性のみが継承してきた流鏑馬を老若男女が楽しめるスポーツ競技化したのが競技流鏑馬です。
2019年4月の第16回大会でも多くの外国人に訪れていただきましたが、乗馬愛好者だけでなく弓道愛好者からの関心も高まっており、今後も「YABUSAME」を世界に発信していきます。


Summary
Sakura Yabusame is the combination of traditional Japanese houseback archery with beautiful rows of cherry blossom trees in Towada City. Towada was previously home to Japan's largest horse Calvary which made the city a bustling place. The sakura trees planted at the time still remain.

Towada Horseback Riding Club is the perfect place for people to interact with horses. The rituals that were held through this equine(horse) culture was historically only performed by men. However, it has now become a competitive sport for both men and women to enjoy.

In April 2019, the 16th annual competition was help and was the largest to date, with visitors from all over the world, including both horse lovers and archery lovers, coming to view the event. We are looking forward to sharing our life and culture of YABUSAME to the world.
選考理由
【外国人審査員の代表的なコメント】
桜の舞う中か、桜の中を馬に乗った伝統衣装を着た人が弓を射るとは<桜>、<馬>、<伝統>、<技術>を同時にみれてクール。桜と伝統的女性や若い世代も伝統を受け継いでいることが感じる。


Reason for Selection
Sakura Yabusame lets us watch someone dressed in Japanese traditional armors riding on a horse, then aiming at a target with the traditional bow and arrow with beautiful sakura in the background. I could see cherry blossoms, horses, Japanese tradition and Japanese skills at once. I could also feel that women and the young generation cherish both the beautiful cherry blossoms and the tradition.