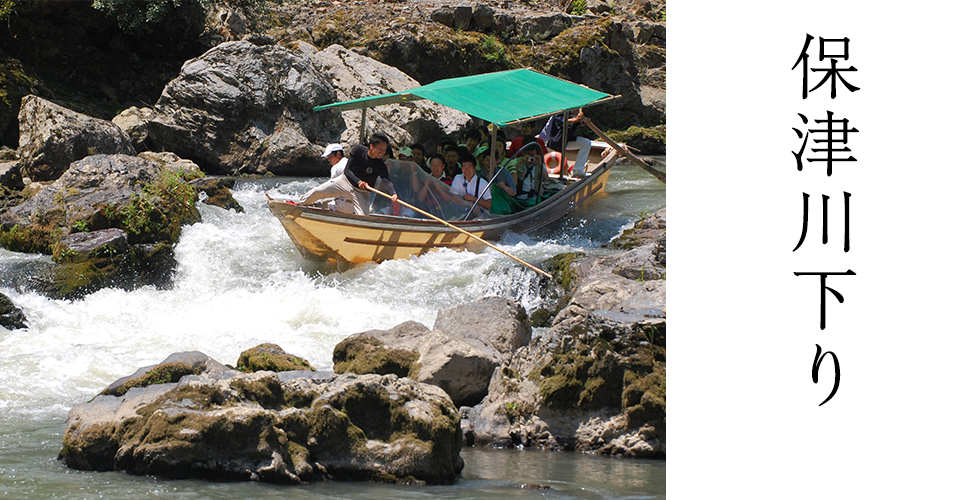 保津川下り – Hozugawa River Rafting
COOL JAPAN AWARD 2019
【一般部門】インバウンドカテゴリー
表彰対象 保津川下り
表彰対象者 保津川遊船企業組合
都道府県 京都府

Hozugawa River Rafting
Category: Inbound
Award Recipient: Hozugawa Yusen Sightseeing Boat Association
Area: Kyoto
概要
激流が岩を噛み、波しぶき舞い、急峻な山々を縫うように流れ、千年に渡り、京の都を支えた水運。時は慶長11年(1606)、豪商・角倉了以により開かれ、丹波の物産を京の都へ運んだことに始まる。明治時代、英国や欧州の皇室が乗船され、世界にその名を知られた。華やかな桜の色香に誘われ、'いのち'が芽生える新緑の春、清涼感の夏、紅葉が錦絵を描き彩る秋、凛とした静寂に包まれる枯山水の冬。'四季'を映す川下り。悠久の'流れ'が刻んだ巨岩、奇岩の数々。はしゃぎ戯れる魚の群れ。羽をひろげて峡谷をゆく水鳥たち。ありのままの'自然'を、伝統の技で押し流す船頭たち。静寂境に遊び'感動'と'癒し'の世界へと誘う'舟旅'が保津川下り。


Summary
Dancing on the waves through the rocks while enjoying the amazing views on both sides of the river which weaves through the mountains. This is Hozugawa river rafting. It at began in 1606 with a healthy merchant transporting his goods to the capital city, Kyoto. In the late 1800s, the named even reached the West when royal family members from Europe, including England, experienced rafting on the river.
Spring brings new life with the cherry blossoms, summer offers refreshing cool air, the autumn leaves paint a picture along the riverside in the fall, and winter even offers a still, dry, and calm atmosphere. All four seasons can be truly enjoyed.
Large rocks showing the flow of time. Oddly shaped rocks and boulders. Playful schools of fish. Water birds spreading their wings throughout the valley. Boatman navigating the river with traditional techniques as if they were part of nature. Hozugawa River Rafting invites you to join this feel the excitement and comfort that comes with this boat trip.
選考理由
【外国人審査員の代表的なコメント】
日本の川と伝統の船が好きなので、ここの船旅はぜひ一回体験してみたいです。とても楽しそうだし、京都の風景を感じる新しい方法。


Reason For Selection
I like both Japanese rivers and traditional ships and boats, so I'd love to try it at least once. It seems very interesting and it is a new idea to enjoy the scenery of Kyoto.