Cool Japan Awards 2019
The Cool Japan Awards 2019 recognized 53 winners and was held on May 27th 2019 at the Kyoto Gyoen National Garden. Along with the ceremony, an exhibit of the winners was also on display.
Name
Cool Japan Awards 2019
URL
http://cooljapan.info/
Summary
The Cool Japan Association accepted applicants from the public which were judges by a special panel which included 100 foreigners. Applicants which were voted to be "Cool Japan" will be announced and on display.
Ceremony Time
2019 May 27, 1:00pm~
Event Date
2019 May 26 & 27
Location
Ceremony: Kyoto Gyoen National Park
Venue: Site of Kan'in-no-miya Residence Lecture Hall
Exhibitions: Cool Japan NY Brooklyun K's Gallery (Jan. 2020), Paris (Jan. 2020)
Host
Cool Japan Association
Production & Operation
Cool Japan Awards Executive Office
Support
Official Outbound Partner
Cooperation
Judges
special judges and 100 foreigner judges
Special Guests


(no particular order)

Yoshihiro Seki

(Senior Vice Minister of the Ministry of Economy, Trade and Industry)
In 1989, started working for Sumitomi Bank (currently Mitsui Sumitomo Bank). In 2005, took office for the first time after winning an election in Hyogo. In 2012, sworn in as Deputy Secretary General of the Party. In 2014, took position in the minister's office of the Ministry of Ecenomy, Trade, and Industry. In 2015, became a visiting professor at Kobe University. In 2016, Senior Vice Minister of the Ministry of the Environment. In 2017, won 4th term election, 5th term as Deputy Secretary General of the Party, Environment Department head, among other positions. In 2018, sworn in as Senior Vice Minister of the Ministry of Economy, Trade and Industry.

Atsushi Takashina

(Japan Tourism Agency)


Toshio Torii

(Ministry of the Environment)


Jun Takamoto

(Cabinet Office)


Naoyoshi Noguchi

(JETRO)


Toshihiro Nishimura

(Kyoto Prefectural Government)


Mitsuhiro Matsuno

(Kyoto City)
Keynote Speakers

Alex Kerr

(Researcher of Oriental Culture, Special Adviser to the Cool Japan Association)
Director of Chiori Trust. Born in 1952 and first came to Japan in 1964. Graduated from Yale University with a degree in Japanese Studies before getting a master's degree in Chinese Studies at Oxford University. Since 1977, Alex has lived in Kameoka City, Kyoto while working primarily as a writer. From 2004 to 2010, he managed an old Kyoto townhouse that he restored into an accommodation facility. Since then, he was worked as a consultant while trying to preserve and protect the tradition Japanese houses throughout Japan, especially the countryside. Over the years, he has experience repairing dozens of homes.
Author: Lost Japan (1993), Dogs & Demons (2002), Nippon Keikan-ron (2014), Kanko Bokoku-ron (2019), and more

Mike Harris

(President of Canyons, Special Adviser to the Cool Japan Association)
Born in New Zealand in 1973. Studies accounting and Japanese language at university. Mike first came to Japan during his university days, then moved to Minakami, Gunma after graduating where he worked for an outdoor activity company. In the company, he created a canyoning department and pioneered canyoning tours throughout Japan. In 2004, he left the company to establish his own company, named Canyons. Outside of work, he personally searches for canyons that no one has ever descended, because that is a true canyon adventure.
Cool Japan Awards 2019
The Cool Japan Awards 2019 looks to get a global response through discovering, certifying, and promoting both tangible and intangible things that can be branded as "Cool Japan." Heading towards the 2020 Olympics, inbound continues to be a pushed, leading to the addition of another category of awards. The National Park Category focuses on the 34 national parks of Japan and the protected nature and culture of each park.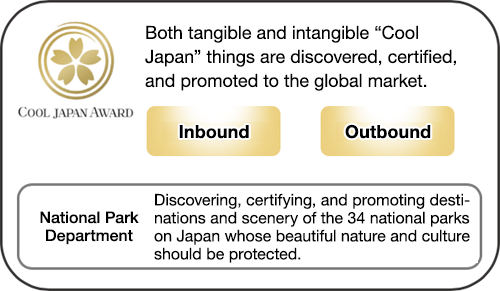 About the National Park Category
While inbound tourism continues to increase and foreigners look for new content, we look to share the 34 national parks of Japan with them. The national parks of Japan and their vast nature and attraction have caught the eyes of foreigners. Following the Snow Monkeys of Joshinetsu Kogen National Park, which were recognized at the Cool Japan Awards 2017, the National Park Category aims to find and promote great places among the national parks.
2019 Winners
Inbound Category
Outbound Category
National Park Category